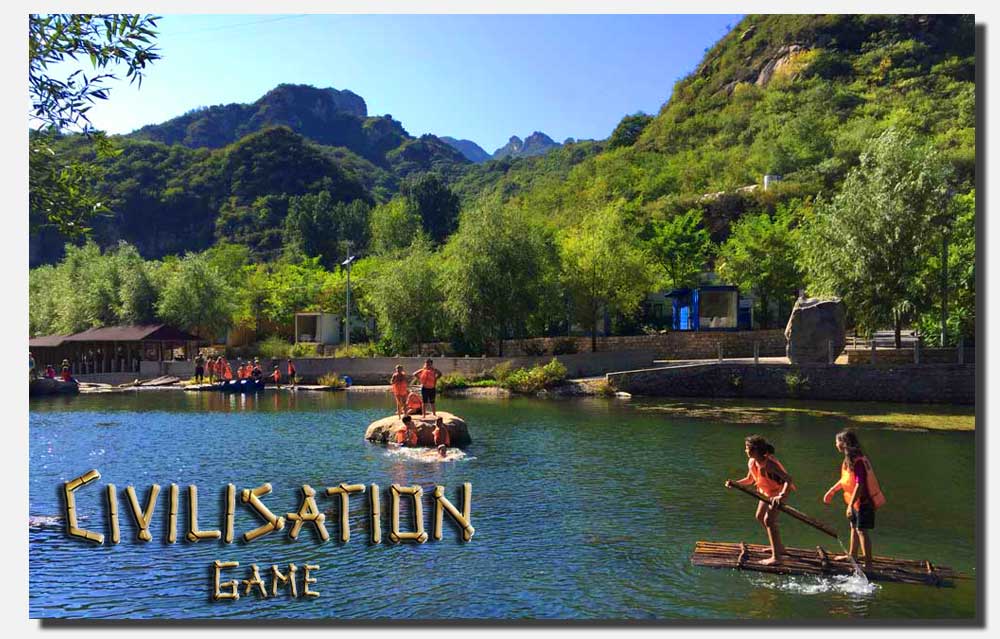 Huairou, Beijing
25th, 26th, 27th of September 2018 (3 days)
Sign Up Deadline: Monday 17th of September
Language: English
Price: 2600 RMB
In Imagine's Civilisation Game, the students are challenged to build up their own civilisation from scratch in a beautiful riverside forest setting in Huairou. The group will first be given a training course in Survival Skills which may come in useful for their challenge, such as how to use tools safely, build a shelter, build a raft, make a fire and understand the natural elements, plants and wildlife around them. After this training, they will be taken to an empty forest space, with basic tools and materials, and the Civilisation Game will begin. By the end of the two days, they will have built their own structures, found ways to cook food, and organised themselves into effective teams with structures of governance, laws, and other features of a modern society. They may even trade and negotiate with other teams, for mutual prosperity across the civilisations. This will be concluded with a discussion of which systems and approaches were most effective, and what they have learned from this experience.
The game covers a broad range of skills and topics: Teamwork, law and order, governance, systems, efficiency and effectiveness, negotiations, trade, economic principals, bushcraft and survival skills, wildlife knowledge, leadership, and social skills. All while having fun and making close new friendships. What better way to start the year, than to get a taste of independent life!
To help throughout their adventures, the students will be accompanied by Imagine's international, multi-lingual team of experienced survival instructors. Many BIBS students have already been taught by Imagine team on the summer Survival Camp and also the BIBS Ski Trips each year. In addition, for four years Imagine have run school trips and activities for most of Beijing's big international schools, including Harrow, ISB, CISB, BIBA, Daystar, Joy El, Tsinghua International School, Shanghai Wellington College etc, all with an excellent safety record. The team have passed various qualifications such as First Aid, Wilderness First Aid (WFA), survival instructing qualifications from the Bushcraft and Survival Association, and many also hold university degrees in outdoor education, ski instructing qualifications and much more. The team regularly go on survival expeditions, and carry out location-specific risk assessments (RAMs) to ensure the highest level of safety. Imagine are also well known among the international school community from 4 years of camping trips, parkour camps, rollerblading courses, watersports camps, ski lessons, survival camps, and Imagine's annual ski competition, ISSCC. Imagine is a British-owned company, fully registered in Beijing.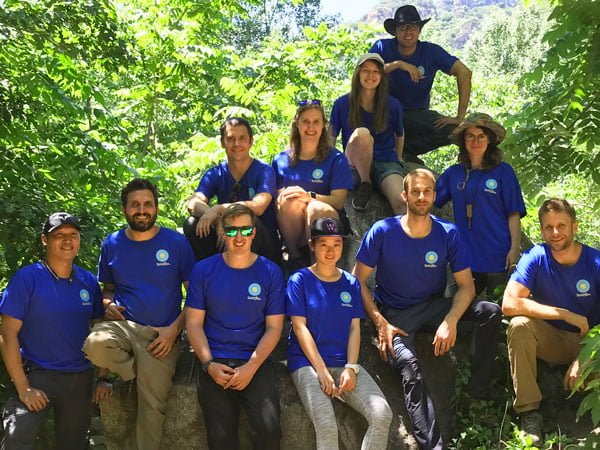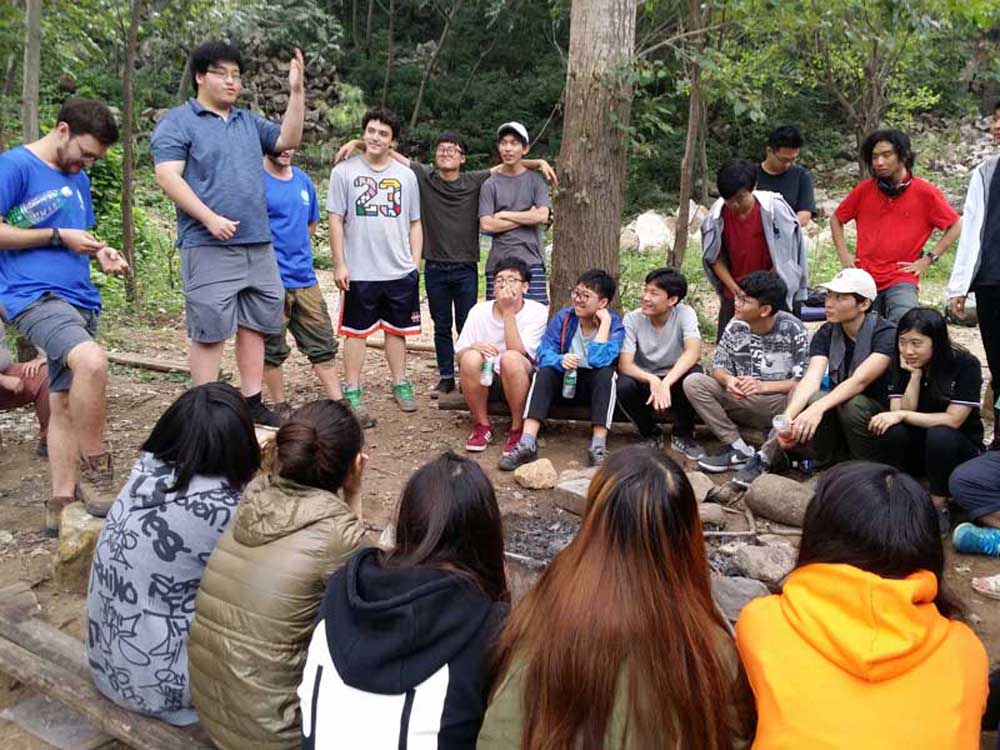 Itinerary:
Tuesday
8:15am

- Meet at BIBS School, drive up to Huairou

9:45am

- Arrive, walk to

site

10am- Outdoor activity

12- Lunch (packed lunch)

1-5.30pm- Outdoor activity

6pm

- Dinner (some groups cook on fire in Civilisation, some in

restaurant

)

8.30pm- Downtime in rooms
Wednesday
8am

Breakfast in restaurant

9am

Outdoor activity

12 - Lunch (some groups cook on fire in Civilisation, some in

restaurant

)




1-5.30pm- Outdoor activity

6pm

- Dinner (some groups cook on fire in Civilisation, some in

restaurant

)

9pm

- Downtime in rooms
Thursday
 8-9am Breakfast in

restaurant

. (Group 6 A-F)

8.15-9am Breakfast in

restaurant

(Group 7 A-C)

8.30-9am Breakfast in

restaurant

(Group 8 A-C)

9am-11.30am Meet at

reception

. Outdoor Activity. (Groups 6 A & B Hiking, C & D Team Building, E & F Raft Building. Groups 7

A- C

Team Building, 8 A-C Water Obstacle Course)

11.30-1145am- Groups not doing water sports Check Out of rooms. (6 A,B,C,D. 8 A,B,C) Put bags in

KTV

room. Pupils hand in keys to allocated BIBS teacher.

1145am-1215 Lunch. (All groups in

restaurant

)

12.15pm- 2pm Outdoor Activity. (Groups 6 A & B Team Building, C & D Hiking, E & F Water Obstacle, 7

A- C

Raft Building, 8

A- C

Team Building)

2-2.45pm Groups that finish water sports Check Out of rooms. (6 E

,F

. 7 A,B,C) Hand in keys to allocated BIBS teacher.
All groups meet at reception. Go to toilet before return journey.
3pm-4.30pm Board bus ready to leave Huariou.

4.45pm Pupils departing BIBS school-bus to go home.
How to sign up?
Please fill in the form below with the information of the participant. After doing so, you will receive information on your email address on how to pay. You can use WeChat Payment, Alipay or Bank Transfer.
What to Wear and Bring
Participants should wear: Clothes and shoes that can get dirty, suitable for the forest (no flip flops or high heels)
Participants should bring: Lunch box for the first day, a plate or bowl, fork or spoon, water bottle, cup; 3 changes of clothes for the forest; another sets of clothes that can get wet (or swimming gear); an extra pair of shoes that can get wet e.g. watersports shoes or old sports shoes; personal medication; towel; raincoat; sunhat/sunglasses; some cash for snacks
Please do not bring: knives, lighters, cooking equipment
Price and Financial Info Price per student: 2600 RMB
Provided by Imagine: Instructors, Equipment, Entrance tickets, Shared rooms in accommodation, Two breakfasts, Two lunches, Two dinners, Outdoor Activity Insurance, Water, Fapiao.
Provided by School: Accompanying Teachers
Payment
After filling the form below, a WeChat QR code will pop up which you can use to pay the amount. Please pay the amount of 2600 RMB
Daniel Jones +86 13552497267
Caleb Archer - BIBS school 
dan@imagine-china.com