Imagine is the fastest-growing, most widely loved brand of outdoor activities in Greater China, with branches in Beijing, Shanghai and Taiwan. 
Imagine activities are loved for their reliable, safe, exciting and quirky style, that never disappoints. The vision is to Inspire Development through Action and Adventure.
Working with Imagine is truly an adventure that will Open Your World. If you share our passion and fit any of the following profiles, come join the family!

Opening 1:
Year-round Activity Project Manager and Activity Leader
As a full-time project manager and instructor, you will organise and run many of the activities, according to your strengths. You will also be trained, to gain skills in new areas. This position is a great way to get set up for branch management later.
Requirements:
Ski instructor qualification

Bachelor's Degree (for visa)

2+ years experience instructing outdoor sports

Great with kids

Near-native English

(Chinese skills ideal but not required).

Able to lead a wide range of the Imagine activities.

Able to 'Imagine' - to create brand new games, programs and activities.
Salary: 10,000 - 16,000 RMB/month gross + accommodation (or allowance), depending on qualifications, experience, season, days worked etc. Pay increases the longer you are with Imagine. We give assistance with the paperwork for the visa. Visa fees and flights not included. Annual paid holidays. A chance to travel to various regions for activities.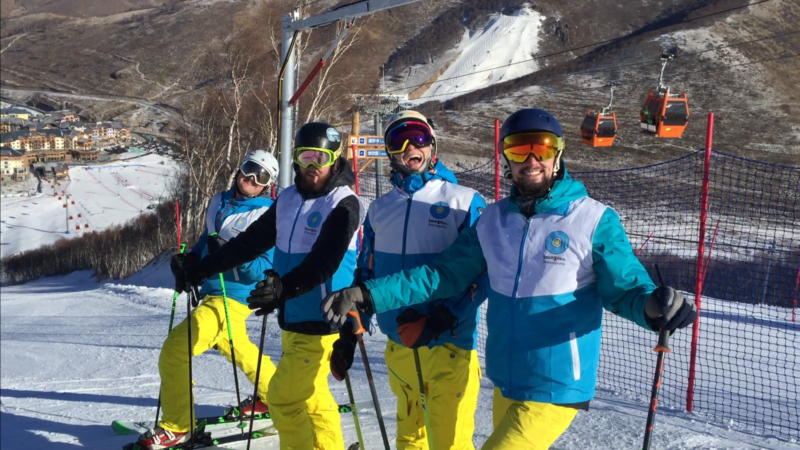 Opening 2:
Marketing
Want to hold onto an active and adventurous lifestyle while following your professional marketing and sales career development path?
Imagine is on a path to become China's most prominent outdoor activities brand. As Marketing and Sales manager, you will be the driving force behind a widely-recognised brand, aiming to inspire Development through Action and Adventure across China.
Roles will include writing and posting on all online and social media channels, organising promotional events, designing new marketing strategies, editing and updating the content of written material, phoning and meeting clients from international schools and companies, deciding how and where to distribute materials, creating merchandise, using WeChat as a major networking and sales channel, maintaining the brand image, utilising the founder's videos and outdoor adventures as a brand figurehead, securing sponsorship, and generally being responsible for the company's marketing efforts.
2-year contract
Working visa (must have a degree)
Starting Base Salary: 10,000 RMB
Commission: Approximately 2000 - 8,000 RMB per month, after passing trial period. Increases over time according to the effects of your marketing - your imagination and effort is the only limit!)
Holidays: National holidays, + 5 days paid holiday in the second six months (10 in the second year)
The chance to be involved in all kinds of outdoor activities as an assistant instructor or film-maker
Accident insurance provided 
One return flight to visit home country provided in the second year 
Optional subsidised staff accommodation available for 1500rmb per month (sharing with foreign instructors, near the office, line 15 Sunhe)
Requirements
Excellent or native English

Good Chinese

A bachelor's degree

Marketing background (education and/or experience)

At least one year in Beijing so far

An intended commitment to Beijing for at least two years

Passionate about action and adventure sports

Very sociable, with a large network of contacts in the international community

Preferred: Excellent creative computer skills such as presentation creation, video editing etc.
Opening 3:
Full and Part Time Instructors (various)
As an instructor, you can join us for any length of work, from occasional freelance/weekend work to seasonal jobs of several months, or year-round contracts. We prefer applications for long-term involvement.
Preferred Skills
At least two of the following:

Ski/Snowboard instructor qualification

Outdoor bushcraft/survival skills or military/scouting experience 

Parkour skills

Climbing instructor qualifications

Experience leading team-building games

Experience coaching sports

Experience working with kids on camps, birthday parties and physical activities.

Watersports/lifeguard qualifications/experience

First-aid trained

Near-native English
You don't have to be able to do everything at first, and for many of these activities, we can train you.
Part-time work varies from 600-900 rmb per day depending on abilities, experience, and type of activity. Long-term work has a monthly base salary, accommodation, instructing commission, paid holiday and other benefits
Opening 4:
Bi-lingual Chinese Assistant Outdoor Instructor and Office Team Member 
你好!Good with kids and love the outdoor sports lifestyle? Time to join a company that can give you the perfect opportunity to turn outdoor sports into a career! 
In this job you will:
1) Assist foreign outdoor sports teachers on camps and trips, teaching activities such as Survival Training, Watersports, Parkour, Climbing, Bubble Football, Camping and other adventures.
2) Help to organise the activities and communicate with parents and customers
3) Help with background work in the office when not away on activities, e.g. customer service, translation, marketing, purchasing and preparing equipment, booking transport, checking locations, creating proposals for clients, negotiating with partners, etc.
Requirements:
1) Excellent spoken and written English
2) A degree
3) Be great with kids and enjoy working with kids and teenagers (aged 7-18)
4) Have an outgoing, positive, energetic personality
5) Have some outdoor background, e.g. regularly go out doing outdoor and adventure sports. The more experience and skills the better. 
Conditions:
5 days per week, full-time role. Working half the time outside at activities, half the time in the office.
Working with a friendly team of young foreign and Chinese staff
Starting salary is between 6000-9,000 RMB (gross), depending on skills and experience.

Opening 5:
Mainland China Managing Partner
It takes a unique type of person to manage Imagine. You must you be crazy enough to know what it's like 'out there' doing outdoor sports, but square enough to really get into graphs, budgets, and other management roles. You must be childish enough to make kids laugh, but adult enough to handle serious matters of safety, risk assessments, insurance, and safeguarding. You must be sociable enough to network and negotiate like mad, but have no problem waking up at 6 am for an activity. You must have spent years abroad experiencing how the outdoor world works in the West, but now committed to China, and speak fluent Chinese.
It's not every day someone like this comes along. So if this is you, raise your hand! You may have just found your ideal career path.
Benefits:
An ever-increasing share of Mainland Profit

A key player in a fast-paced and meaningful entrepreneurial adventure

16000 RMB/month base starting salary. Raised over time. 

Working visa, Accident Insurance, Annual holidays

Free access to many outdoor locations and activities
Requirements:
Fluent spoken and written Chinese and English

A university bachelor degree

At least two years experience in the western outdoor activity industry

Experience and/or education in business management

Likely to be able to stay for at least three years 

Strong Skier

Other specific outdoor sports skills in survival, parkour, climbing or watersports, preferably with some instructor qualifications 
Opening 6:
Managing Partner of Shanghai, Shenzhen or other Regional Branch
You will be given the exciting challenge of running a regional branch of Imagine. Depending on the region, the branch may be anywhere between fully operational or not yet started, therefore each region will require a different approach. However, all regions require the same entrepreneurial spirit and passion for outdoor activities!
Salary is very much dependent on the applicant and the region. As a general guide, the base salary will cover your general costs, but the real money will come in the form of a generous share of profits. That's right, you will be a partner, and therefore in control of your own success. 
Requirements:
1) Fluent in spoken and written English and Mandarin.
2) Outdoor sports instructing background, the more the better. E.g. Bushcraft/Survival, Team-building, Sailing, Kayaking, Rafting, Parkour, Rollerblading, Camping, Climbing, Archery, Summer Camps etc.
3) Great with kids and a fun, active and creative personality to match the brand
5) Full range of entrepreneurial skills needed to run (and in some cases set up) a branch (interpersonal, managerial, computer skills, networking, negotiating, marketing, having great ideas etc.)
6) Willing to see this not as a job but as a lifestyle, and totally dedicate yourself to creating something great
7) Plan to be in the region for at least three years, and to see this as a long term business partnership rather than a brief experience.
8) Ideally already in the region, with a vast network of existing contacts and knowledge of the region.
If interested in any of these roles, just fill in the form below or send your CV to: