Develop your Outdoor Career with Imagine in China!

Imagine is the fastest-growing, most widely loved brand of outdoor activities in Greater China, with branches in Beijing, Shanghai, and Taiwan. 
Imagine activities are loved for their reliable, safe, exciting and quirky style, that never disappoints. The vision is to Inspire Development through Action and Adventure.
Working with Imagine is truly an adventure that will Open Your World. If you share our passion and fit any of the following profiles, come join the family!
vvv (For Jobs in English Scroll down) vvv
【招聘】双语人力资源经理
(更新于2018/07/23)
www.imagine-china.com是一个年轻的团队,CEO是年轻有为干劲十足的英国人,大部分员工是外籍户外运动专家,公司主要经营、组织、策划户外活动,包括但不限于水上运动、野外生存、跑酷乃至雪上运动等 。
公司人际关系简单而友好,氛围轻松愉悦,既是年轻人吸收和学习的丰饶沃土,又是有经验人士大展拳脚的极佳平台。
【职位要求】
您需要具有HR专业知识背景,两年以上的工作经验为佳,优秀的英语听说读写能力,拥有乐观积极的个性以及严谨合理的工作习惯,愿意探索和学习其他领域知识并与我们一起成长。
【工作内容】
1. 制定与实施招聘计划;
2. 制定与实施绩效考核制度与方案;
3. 薪酬核算,社保汇缴,方案测算;
4. 协助外籍员工获取签证,居留许可和就业许可;
5. 偶尔兼顾出纳工作,配合会计公司完成部分财务工作;
【工作时间】
10:00 - 18:30,双休,国家法定节假日休息
【薪资】
薪酬税前6000-10000(条件优秀者可面议), 2年劳动合同,2个月试用期,试用期薪水为80%,五险一金,可以以优惠价格入住公司附近的员工宿舍。
【其他】
请在简历里备注微信,谢谢
期待您的加入!
双语客服及户外活动协调
(更新于2018/07/23)
如果你对户外活动感兴趣,如果你想在一个国际的环境下和一群年轻人工作,并有机会参与到户外活动,快来加入我们
我们是一个年轻的团队,老板是英国人,公司主要经营组织策划户外活动,比如滑雪、野营、泡泡足球、帆船等 ,公司氛围好,青春、欢乐是我们的主题。
双语客服及户外活动协调
工作内容:
薪资是底薪+佣金, 底薪范畴6000-6500 税前,佣金根据活动(0-6000/月)
2年合同,2个月试用期,试用期80%,佣金80%
1 可以参加户外活动 并协助外籍导师以确保活动的顺利进行。
2.英文客服,接听公司客服手机耐心回答客人对活动的疑问并做好日常记录、组织安排活动。
3. 完成其他工作安排
工作时间
轮班制,周末工作,会进行调休在接下来调休2天。确保5个工作日双休,有的时候会在家里持客服手机
希望您是:
充满活力、开朗。对户外活动和西方文化感兴趣、比较强的的英语的沟通能力。
如果您对我们的职位感兴趣请发简历至 careers@imagine-china.com
请在简历里备注微信,谢谢
期待您的加入!
工作内容
双语财务(+人事)
(更新于2018/07/23)
HELLO 如果你有财务知识,厌倦了呆板枯燥的财务工作,如果愿意成为跨界人才,如果你愿意更多参与到户外活动,快来加入我们!
我们是一个年轻的团队,老板是英国人,公司主要经营组织策划户外活动,比如滑雪、野营、泡泡足球、帆船等 ,公司氛围好,青春、欢乐是我们的主题。
工作内容
双语财务+人事
希望你具有一些财务知识背景,工作经验2-5年,原意学习其他领域知识并与我们一起成长。
1. 与会计对接,做工资表,发票的管理以及客户付款事宜等相关财务工作
2. 人事,员工保险,公积金,薪酬计算及发放、外国教练工作签证办理事宜,劳动合同的定制等相关事宜
3 优秀的英文听说读写水平, 可以制作并翻译合同
4. 行政类工作,公司的审计、年报、物品购买等
工作时间:
10:00-6:30 周一到周五,双休,国际法定节假日休息
薪资
薪酬税前6000-9000, 2年劳动合同,2个月试用期,试用期薪水为80%,五险一金,公司可以提供公司周边便宜住所,可月付。
如果您对我们的职位感兴趣请发简历至 careers@imagine-china.com
请在简历里备注微信,谢谢
期待您的加入!
Openings For Chinese Nationals

Year-round Activity Project Manager with Ski Instructor Qualification
(Updated 23rd July 2018)
As a full-time project manager and instructor, you will organise and run many of the activities, according to your strengths. You will also be trained, to gain skills in new areas. This position is a great way to balance a passion for outdoor sports with some serious career development in the office, and have a stable job year-round rather than having to hunt for a new job each season!
Requirements:
Ski instructor qualification

Bachelor's Degree (for visa)

2+ years experience instructing outdoor sports

Great with kids

Native or near-native spoken and written English

(Chinese skills ideal but not required).

Able to lead a wide range of the Imagine activities.

Able to 'Imagine': to create brand new games, programs and activities.
Package: 11,000-12,000 RMB/month (gross) + 1000-5000 RMB/month commission + accommodation (or allowance) + optional Mandarin classes reimbursement, all depending on qualifications, experience, season, days worked etc. Pay increases the longer you are with Imagine. We give assistance with the paperwork for a work visa. Visa fees and flights not included. Annual paid holidays and flexible unpaid holidays. A chance to travel to various regions for activities.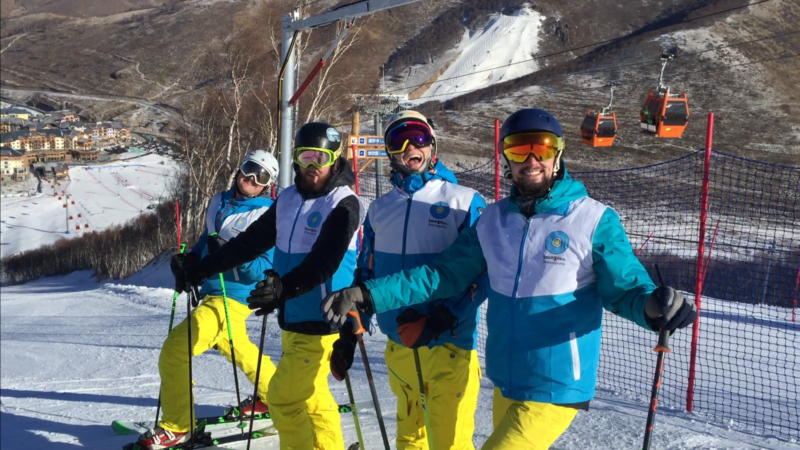 Part Time Instructor (various) - if you are already in China
(Updated 23rd July 2o18)
Already in one of our active locations? You may be able to join us for flexible part time outdoor instructor work. 
Preferred Skills
At least two of the following:

Ski/Snowboard instructor qualification

Outdoor bushcraft/survival skills or military/scouting experience 

Parkour skills

Climbing instructor qualifications

Experience leading team-building games

Experience coaching sports

Experience working with kids on camps, birthday parties and physical activities.

Watersports/lifeguard qualifications/experience

First-aid trained

Near-native English
You don't have to be able to do everything at first, and for many of these activities, we can train you.
Part-time work varies from 500-1100 rmb per activity (or day) depending on abilities, experience, and type of activity.

Beijing/Mainland China Regional Managing Partner in Training
[Updated 23rd July 2018]
It's not easy, but it's an awesome challenge for the right person! Have you got the right mix of outdoor instructor skills and experience, combined with the ability to adapt to business management? And maybe even fully bi-lingual and committed to China for the mid-term, if that's not already enough requirements?!
It's not every day someone like this comes along. So pass it on to any friends who might fit, or if this is you, raise your hand! You may have just found your ideal career path.
Benefits:
A share of Mainland Regional Profit once trained up, then increasing over time

A key player in a fast-paced and meaningful entrepreneurial adventure

14,000-18,000 RMB/month base starting salary depending on experience and fit

Working visa, Insurance, Annual holidays etc.

Free access to many outdoor locations and activities

The chance to develop your career faster than you ever expected
Requirements:
Fluent spoken and written Chinese and English

A university bachelor degree (minimum)

At least two years experience in the western outdoor activity industry

Experience and/or education in business management

Likely to be able to stay for at least three years 

Strong Skier

Other specific outdoor sports skills in survival, parkour, climbing or watersports, preferably with some instructor qualifications 
If interested in any of these roles, just fill in the form below or send your CV to: