Inspire Development through Action and Adventure.
Develop your Outdoor Career with Imagine in China!

Imagine is the fastest-growing, most widely loved brand of outdoor activities in Greater China, with branches in Beijing (including Chongli) and Taiwan, and further operations all around in East and South China.
Imagine activities are loved for their reliable, safe, exciting and quirky style, that never disappoints.
Working with Imagine is truly an adventure that will Open Your World. If you share our passion and fit any of the following profiles, come join the family!

Year-round Activity Project Manager with Ski Instructor Qualification (visa included, can apply from abroad)
(Updated 2o/11/2018)
As a full-time project manager and instructor, you will organise ski trips and many other types of adventure activities, according to your strengths. You will also be trained to gain new skills in Bushcraft/Survival and Parkour, team-building games, Great Wall hikes and others. This position is a great way to balance a passion for outdoor sports with some serious career development in management roles, and have a stable job year-round rather than having to hunt for a new job each season!
Requirements:
Ski instructor qualification

Bachelor's Degree (for visa)

2+ years relevant work experience since graduation date

Great with kids

Native or near-native spoken and written English

(Chinese skills ideal but not required).

Existing skills in some of the other Imagine activities (e.g. Survival, Parkour, Watersports or Climbing)

Able to 'Imagine': to create brand new games, programs and activities.
Package: 12,200-17,000 RMB/month (comprised of base and lesson commission, gross) + free accommodation (or allowance) + optional Mandarin classes reimbursement. Pay increases the longer you are with Imagine. 
Visa: We sponsor a full work visa. Visa fees not included.
Equivalent of all Chinese national holidays (many) + 5 days paid holidays in second 6 months, 10 in second year. + flexible unpaid holiday options.
A chance to travel to various regions for activities across the entire Imagine network of branches and destinations of the Greater China region.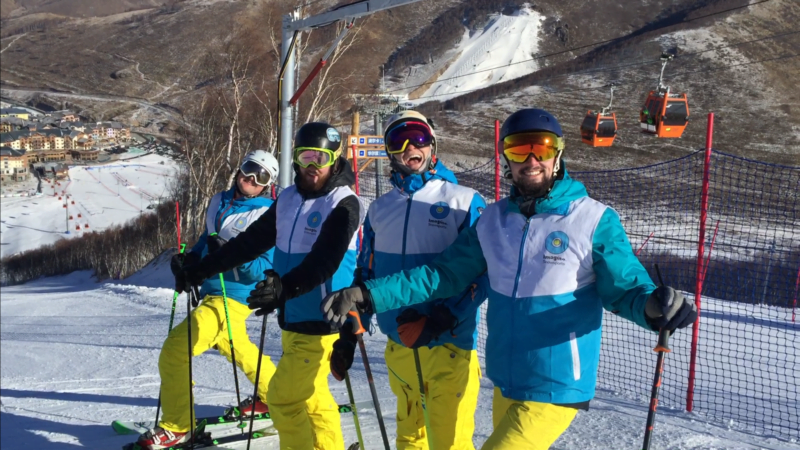 Part Time Instructor (various) - if you are already in China
(Updated 23rd July 2o18)
Already in one of our active locations? You may be able to join us for flexible part time outdoor instructor work. 
Preferred Skills
At least two of the following:

Ski/Snowboard instructor qualification

Outdoor bushcraft/survival skills or military/scouting experience 

Parkour skills

Climbing instructor qualifications

Experience leading team-building games

Experience coaching sports

Experience working with kids on camps, birthday parties and physical activities.

Watersports/lifeguard qualifications/experience

First-aid trained

Near-native English
You don't have to be able to do everything at first, and for many of these activities, we can train you.
Part-time work varies from 500-1100 rmb per activity (or day) depending on abilities, experience, and type of activity.

Beijing/Mainland China Regional Managing Partner in Training
[Updated 20/11/2018]
It's not easy, but it's an awesome challenge for the right person! Are you bi-lingual in English and Chinese and have the right mix of outdoor education industry experience combined with business management skills?
It's not every day someone like this comes along. So pass it on to any friends who might fit, or if this is you, raise your hand! You may have just found your ideal career path.
Benefits:
A share of Mainland Regional Profit once trained up, likely transferring to company share options over the long run.

Be a key figure in a fast-paced and meaningful entrepreneurial adventure, changing thousands of lives for the better

14,000-18,000 RMB/month base starting salary depending on experience and fit

Working visa, Insurance, Annual holidays etc.

Free access to many outdoor locations and activities

The chance to develop your career faster than you ever expected
Requirements:
Fluent spoken and written Chinese and English

A university bachelor degree (minimum)

At least two years experience in the western outdoor activity industry

Experience and/or education in business management, ideally in the adventure industry

Likely to be able to stay for at least three years 

Strong Skier (ski instructing qualification and experience would be strongly preferred)

Other specific outdoor sports skills in survival, parkour, climbing or watersports, preferably with some instructor qualifications 
If interested in any of these roles, just fill in the form below or send your CV to: