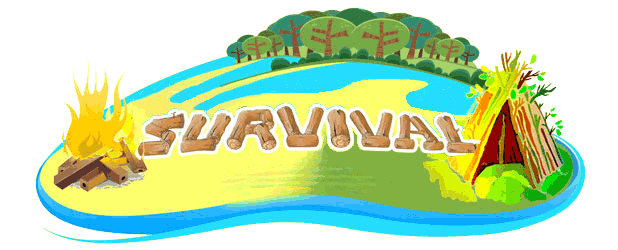 School Survival Challenge Field Trip
In a beautiful natural setting, build a raft, a shelter and a campfire, and learn about navigation, wildlife and more!
The benefits of outdoor survival training are endless. Students will develop leadership, team-work and communication skills by working together to complete a series of exciting challenges. Activities are led by Imagine's professional western survival experts, who lead Survival Camps in China based on a detailed, tired and tested curricula for all ages, year round. This is one of our most popular school trips!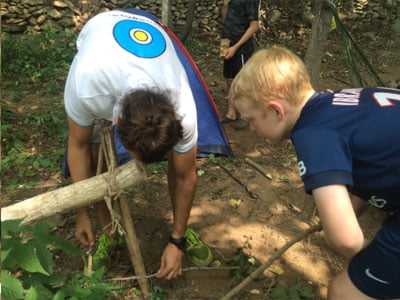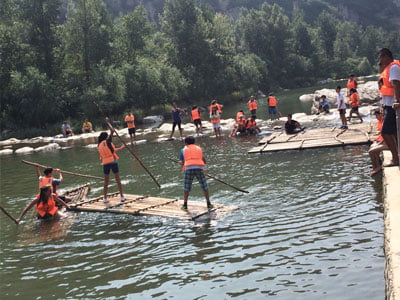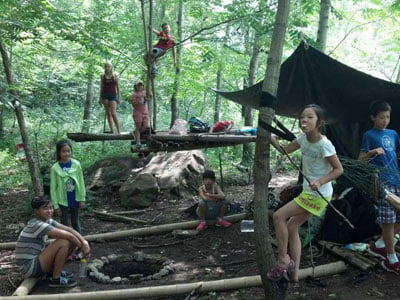 Group Size
12-100 Students (1:6 ratio of instructors)
Date and Time
Any day, or two days, between April and October. Rafting between May and September. Suggested pickup time: 8.30am. Arrive back at 16.00 (flexible).
Location
A scenic, riverside forest area in Huairou District.
How does it work?
We set up a series of survival training activity stations. Each survival challenge can accommodate several teams at a time. Some teams do one challenge while other teams do other challenges, 'rotating' around the activity stations.
Activities
Below are some examples of the possible activity stations. According to the weather, group size and other factors, we will choose the most appropriate combination for the day. There is no guarantee of doing everything listed here.
Choosing Your Camp – Discover the secrets to choosing the perfect camp location; it's not as easy as you think!
Shelter Building – Compete in teams to build the best shelter, using only rope, wood and leaves from the forest.
Tents and Hammocks – Put up a tent unassisted, and if you have time left, put up a hammock
Fire Making – See which team can make the best fire from materials around the forest. Also, learn some cool ways to light a fire in the wilderness.
Survival Theory – Do you think like a survivor? Our experts will use mental exercises to teach you important and potentially life-saving survival theory.
Build a Trap – Use your creativity and a variety of materials, to design a fish or animal trap (no animals really harmed).
Natural Orienteering – Learn to navigate through the wilderness using only nature around you.
Water Filtration – Learn how to find and filter water when lost in the wild.
Bug Discovery – Get to know the neighbours!
Raft Building (May to September) - Compete in teams to design and build a raft from bamboo logs and rope, then race the rafts on the river!
River Run Crossing (May to September) – Race in teams to cross the river on a range of zip lines, bridges and rope swings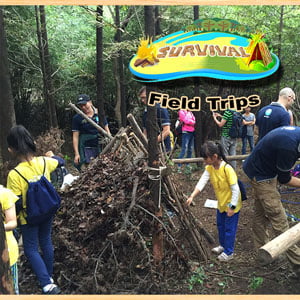 What to bring
Wear comfortable clothing suitable for outdoor activities in the forest. If the weather is warm and your activity will include water activities, please take a second set of clothes and shoes that can get wet and a towel, as your trip will include water activities! 
Transport
The location is 1.5 hours from downtown Beijing or 1 hour from Shunyi. Transport can be provided by Imagine or by the School, there are different quotes for each option. 
Food
Students and teachers should bring a packed lunch, unless you add a lunch option. Imagine instructors can also teach students how to make an fire cooked lunch(extra).
Insurance
Please send all students' full names, dates of birth, ID/Passport numbers and genders at least a week before the activity, so we can buy outdoor sports insurance for them.
Price and Financial Info
400 RMB per student
Includes: Instruction with western instructors from Imagine on approximate 1:6 ratio, entrance tickets, equipment and materials, insurance, fapiao, free places for teachers
Does not include: Transport (please inquire for transport quote if needed), Lunch (bring packed lunch or inquire about lunch options for RMB100 per student)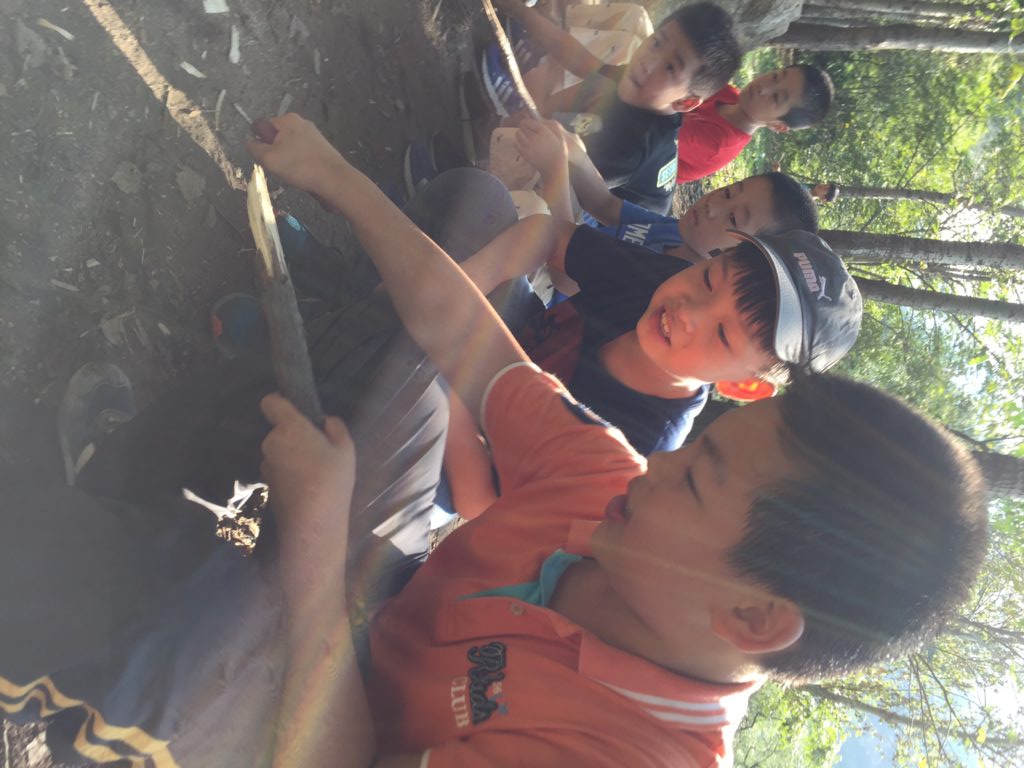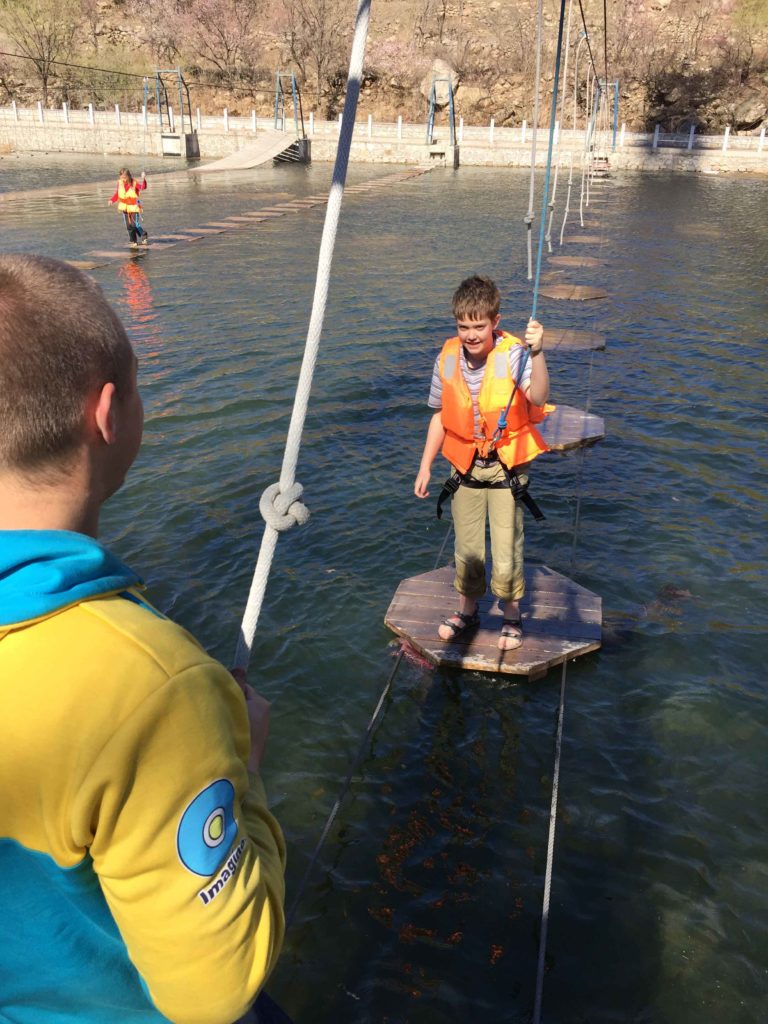 Booking
Interested? Just email info@imagine-china.com with the basic info for your trip (group size, date, etc). We can send you a proposal directly, or we are equally happy to arrange for a representative to come to your school for a meeting anytime.